About Hawaii Pacific Solar
Our Mission
Hawaii Pacific Solar's mission is to contribute to the sustainability of Hawaii by being a leading developer and designer of photovoltaic and other energy saving systems and by supporting community environmental efforts.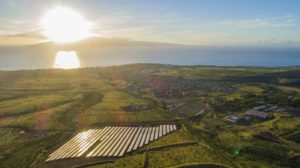 Serving Hawaii since 2008, Hawaii Pacific Solar's (HPS) reputation for exceptional quality and service keeps clients returning again and again for its expertise. HPS has a particular mastery of commercial projects, including numerous schools for the Hawaii State Department of Education, retail complexes such as Ala Moana Center and Whalers Village, and hospitality and industrial sites.
HPS' service, including residential solar and storage projects, spans the entire length of the project, from initial evaluation to working with the utility, obtaining permits, constructing the system and maintaining it to ensure energy production is as expected.
HPS partnered with Haleakala Energy Associates to develop Maui's first solar farms in Lahaina and Kihei. The Lahaina project (Ku'ia Solar) is a 3.8 megawatt project near Lahainaluna High School. The Kihei project (South Maui Renewables Resources) is a 3.8 megawatt project near the Maui Research and Technology Park.
These projects are the first utility scale solar projects on the Valley Isle. They supply nearly six megawatts of solar power to Maui Electric's grid at a price of 11.06 cents per kilowatt hour. HPS was instrumental in obtaining the land leases, negotiating the Power Purchase Agreements with Maui Electric and obtaining PUC approval for those agreements.
HPS is consistently listed in the Pacific Business News list of top PV providers. The company received the Pacific Edge Business Achievements Award – Commitment to Green award in 2014 and was a 2016 finalist in Hawaii's Better Business Bureau Torch Awards for business ethics.
President/CEO
Bob Johnston provides management and financial expertise and oversees the day-to-day operations of Hawaii Pacific Solar (HPS) and is the co-founder of Landtec, Inc., a Maui-based real estate development company. Before forming his own company, Johnston was vice president of finance and development for Hilton Head Company, one of the largest real estate developers and resort operators in the Southeast, where he was responsible for the management of projects from conceptual planning to construction, finance and marketing. Prior to that, he served as president of Landwest Development Company on Hilton Head Island, South Carolina, where he developed projects in the Carolinas, Georgia, Colorado, Texas, Illinois, Maui and Jamaica. Johnston sits on the Hawaii Nature Center and Maui Workforce Development boards. He is a graduate of the University of Colorado with degrees in finance and economics.
Vice President of Finance
Tricia Rohlfing currently serves as vice president of finance at HPS. Prior to joining HPS, Tricia was director of energy ventures for Makani Nui Associates, a development partner with First Wind that developed and continues to operate several wind farms in Hawaii, including the Kaheawa wind farms on Maui. She joined Makani Nui Associates in 2010 after retiring from Bank of Hawaii where she was last senior vice manager at the Bank's Maui Commercial Banking Center. Rohlfing earned her bachelor's degree in finance from Oregon State University. She currently serves on the Maui Economic Development Board and has served on the boards of the Maui Chamber of Commerce, the State 4-H Foundation, the Maui Memorial Medical Center Foundation, the Hawaii Food Industry Association and the Healthcare financial Management Association.
Vice President of Operations
Daniel Roberts' background is in construction management and photovoltaic system installation. He has more than 10 years of experience in the construction industry and has also directed operations of solar projects in the commercial sector. Roberts oversees all installation and operational activities on Oahu. He is responsible for the day-to-day operations and manages the flow of information between the client, project team and subcontractors. His duties include participation in the pre-construction planning phase, project scheduling, logistics and coordinating field operations and staffing for HPS. Roberts is also the liaison between HPS and HECO for PV interconnections. Roberts and his team have completed and commissioned nearly 20 solar sites for the Hawaii State Department of Education. He was responsible for all coordination between the schools and HPS.
Project Manager
A Maui resident since 1993, Shannon Smith has been with HPS since 2011. Currently serving as project manager, she oversees office and employee operations and assists with ongoing projects. Prior to HPS, she worked for 10 years in real estate development, primarily on Maui residential projects. Prior to that she worked for the Kaanapali Beach Resort Association, promoting Kaanapali as a travel destination via resort events, print and multi-media advertising. She also has experience in commercial and residential real estate leasing and management on Maui and the mainland. A graduate of Penn State University, Smith is a past board member of Ebb & Flow Arts and currently sits on their Advisory Board.
PV Designer
Curt Middleton provides design, architectural and engineering support for photovoltaic systems and oversees the analytical aspects of system sizing and the design of PV projects at HPS. Experienced in system communications, procurement, drafting, permitting and engineering administration, he is responsible for managing the workflow between clients, engineering firms, local utilities and the county. His duties include site evaluation, PV system design, drafting, interconnection agreements, procurement logistics and coordinating with the local permitting offices for project approvals. Prior to relocating to Maui, Middleton worked as a field engineer in Pennsylvania, gaining experience in project management and client relations. He earned his Bachelor's degree in professional geology and geoscience from Bloomsburg University of Pennsylvania.