Electric Vehicle
(EV) Charging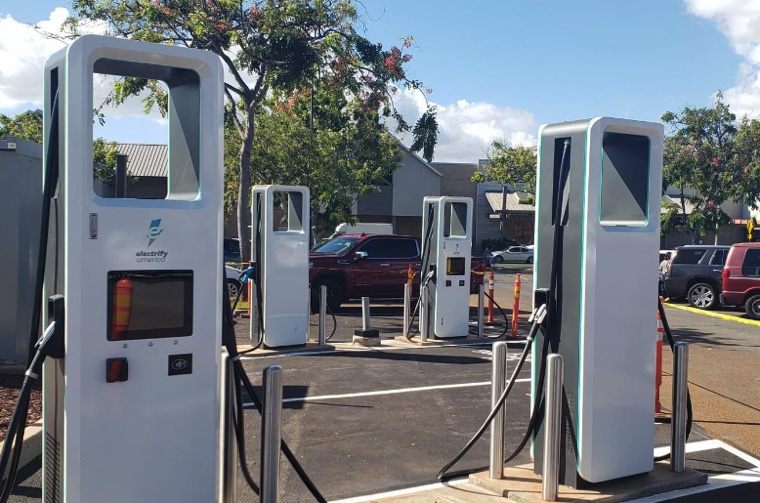 The need for EV (electric vehicle) charging stations will continue to grow as more drivers choose electric cars and trucks.
Owners of commercial and private enterprises such as healthcare facilities, high rise residential buildings, schools and entertainment areas should consider installing level 2 EV chargers for their customers' and staff's convenience. These can also be a revenue source.
Level 3 charging stations are for quick charges that re-energize batteries as fast as 30-40% in just 15 minutes. These stations are appropriate for shopping centers, service stations or any location where the vehicle is parked for a short period.
Homeowners should consider a installing a level 1 or level 2 charging station.
Hawaii Pacific Solar is the exclusive Hawaii contractor for Electrify America installing systems at Walmart stores throughout the state.
Hawaii Pacific Solar is also a certified Tesla Supercharging station installer for commercial and residential properties in Hawaii.
There are numerous types or levels of EV charging stations, various plug adapter types, and multiple charging station applications to consider. Hawaii Pacific Solar will help you select the appropriate charging station equipment and provide turnkey installation and setup of the service equipment. This may include the recommendation of a PV or PV/battery system to help offset the cost of the EV load.
If you have an existing PV system, Hawaii Pacific Solar will evaluate the utility inter-connection program and provide the best economic solution. Hawaii Pacific Solar tracks subsidies and cost sharing programs from Hawaii Energy, a state-funded organization that provides incentives for energy efficiency.