Solar Solutions For A Sustainable World
Hawaii Pacific Solar specializes in commercial and industrial grid-connected, micro-grid and hybrid photo voltaic systems and provides a range of services for residential solar and storage systems
Hawaii Pacific Solar provides comprehensive service across all phases of a solar installation project.
Hawaii Pacific Solar has an enviable track record of successful commercial/industrial installations in Hawaii including completely off-grid systems, as well as those tied to the utility, both with and without battery storage.
Customized
Energy Assessments
Students learn about energy savings, production and the impact of renewable energy with real-time monitors provided by Hawaii Pacific Solar for its education projects.
Latest news and posts related to solar energy
Queen Liliuokalani Facilities Campus Gets Solar, Storage and EV Charging Stations (HONOLULU, Dec. 20, 2019) -- The Department of Education's (DOE) Queen Liliuokalani Campus is now being largely powered by renewable energy covering over 55 percent of the electrical...
read more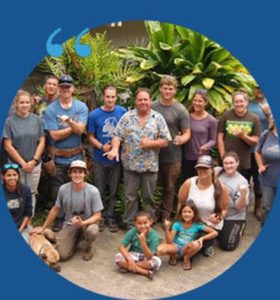 In The Community
"Aloha" can be defined in multiple ways, but for us at Hawaii Pacific Solar it means living in harmony and treating each other with love and respect. Aloha guides how we interact with each other, our customers, community and our 'aina.
Hawaii Pacific Solar (HPS) realizes that solar-powered energy is helping us reach our environmental sustainability goals, but the sun can also cause the most common form of cancer in the United States - skin cancer.  HPS supported the No Shenanigans Golf Tournament,...
read more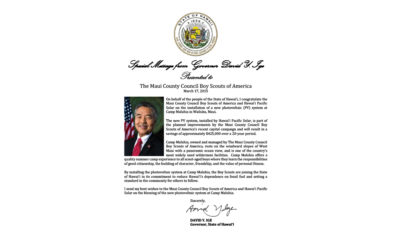 HPS installed a PV system at Camp Maluhia in Wailuku, Maui, which will save The Maui County of Boy Scouts of America approximately $425.000 over a 20-year period. The system was funded through a Power Purchase Agreement with Kairos Energy Capital of Honolulu. One...
read more
(Wailuku, Maui, April 12, 2016) -- Iao Valley, the Hawaii Nature Center's (HNC) program facility on Maui, will soon have solar power thanks to a $40,000 grant from the Jonathan Merage Foundation and discounted photovoltaic (PV) installation by Maui-based Hawaii...
read more
Contact one of our Photovoltaic Specialists
(808) 661-1166